The advantages of LED solar floodlights, compared with other types of floodlights, solar floodlights are more energy-saving and environmentally friendly. And the new technology used makes the overall sealing performance of the lumin better and can be better Dust proof and waterproof. So it has higher safety when used outdoors.
Applicable to any outdoor places.Because one of the characteristics of LED solar floodlights is that they are not affected by the external environment, they can meet the decorative needs of urban beautification for the lighting of streets, parks, buildings and other facilities, as well as provide large-scale mines Lighting for night work.
The internal and external seismic design is more stable. The LED solar floodlight adopts advanced seismic technology in the design, which makes the overall structure of the lamp more stable and safe, and can prevent the lamp from falling off, bracket fracture, and shortened life due to strong vibration when working outdoors. And other issues.
The alloy material is more durable and durable. The LED solar floodlight adopts new alloy materials in the selection of materials, which not only makes the overall weight of the lamp more portable and easy to carry and install, but also uses high-tech techniques in spraying to ensure that the lamp can be used in an outdoor environment It is not corroded and highly guarantees the overall performance of the lamp housing.
Arbitrary illumination angle For outdoor lighting fixtures,the angle should be adjusted according to factors such as the direction and lines of the building. LED solar floodlights can meet this demand. And the illumination angle can be adjusted arbitrarily after installation to ensure that the desired display effect is achieved.
Energy-saving and environmentally friendly LED solar floodlights use solar energy to store electricity for the lamps, making full use of energy resources, energy-saving and environmentally friendly, not only prolonging the service life of the lamps, but also especially suitable for unattended outdoor use, saving labor costs.
Tatalux Model-TALFS22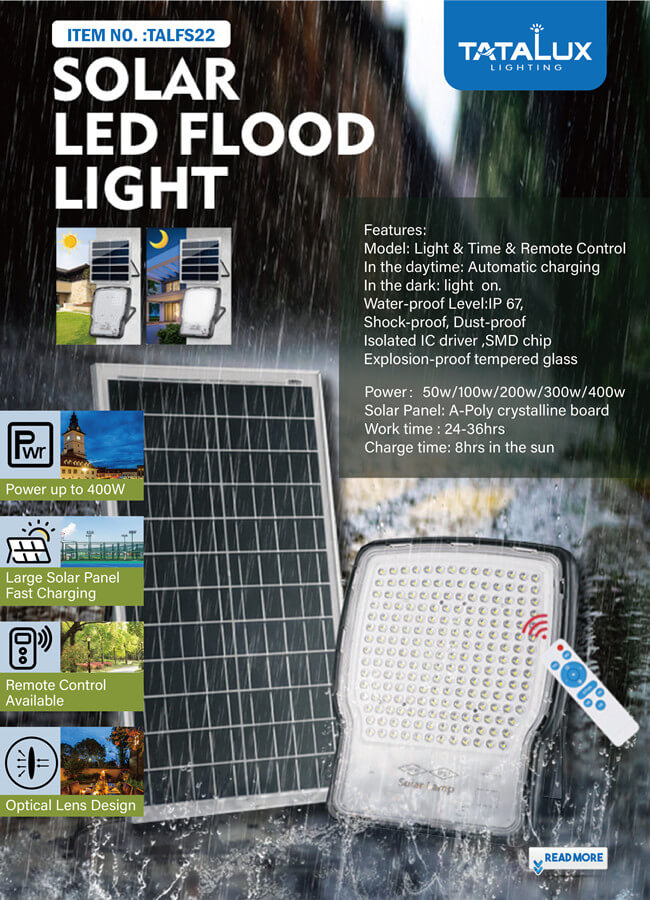 Features:
Model: Light & Time & Remote Control
In the daytime: Automatic charging
In the dark: light  on.
Water-proof Level:IP 67,
Shock-proof, Dust-proof
Isolated IC driver ,SMD chip
Explosion-proof tempered glass
Power:50w/100w/200w/300w/400w
Solar Panel: A-Poly crystalline board
Work time : 24-36hrs
Charge time: 8hrs in the sun
For more info, you can enter the link www.tatalux.com. For any question , you can email us info@tatalux.com, we are looking forwarder to your email .