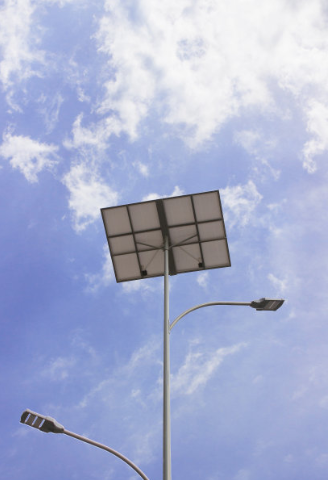 Solar energy is the energy produced by the fusion of internal hydrogen atoms to release huge nuclear energy.The radiant energy from the sun. Most of the solar energy needed by humans comes directly or indirectly from the sun.
In today's rapid development of the lighting industry, the development of technology changes with each passing day, and various new products emerge in endlessly .As solar technology is widely used in  the lighting industry ,people's lives have  become more intelligent ,convenient and environmentally friendly .
According to the understanding of the use of solar street lights, the LED solar street light system uses solar battery components to receive solar radiation energy  during the day and convert it into electrical energy , which is stored in the battery through the solar controller . At night , when the illuminance gradually decreases to the  set value , the solar controller detects .
After measuring this value, the battery will discharge the solar LED street lamp. After the battery is discharged for N hours, the salor controller will act, and the battery discharge will end.
With the rapid development of solar street lamps, street lamp reform is imperative. Regarding the future development direction of solar street lights, it must be more humanized, more intelligent, and more conducive to human health. The cost performance of solar street light products will continue to improve, and the application areas will become more and more extensive.
 The prospect of solar street lights is great, and the future is inseparable from solar energy. Due to the progress of the times,
we have gone from the development and research of street lights to today's more magical solar street lights, solar landscape lights,
solar garden lights, LED street lights, LED high A series of lighting products such as pole lights, LED lawn lights, solar lawn lights, solar traffic lights, LED Chinese lights, etc.
 The biggest use of nuclear energy is power generation. In addition, it can also be used as other types of power sources,
heat sources, etc.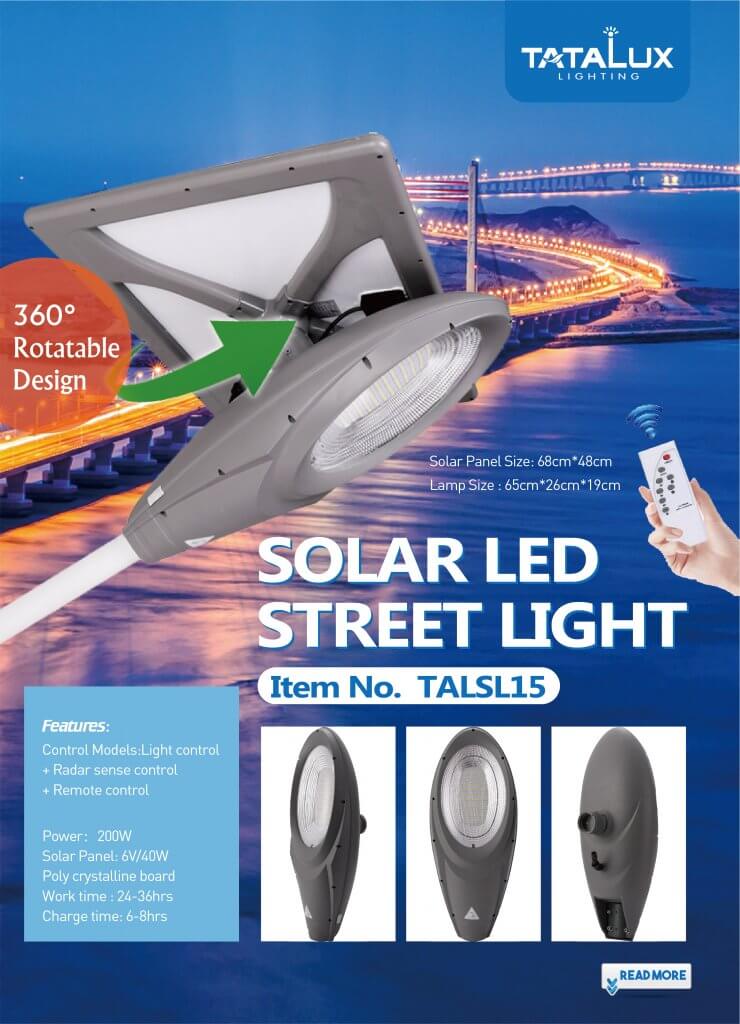 Tatalux New model  —TALSL15  Solar LED street light 
Power: 200W
Solar Panel: 6V/40W
Poly crystalline board
Work time:24-36hrs
Charge time:6-8hrs
Features: Control Models:light control+ Radar sense control +Remove control 
Advantage :
1)New Version Solar Light:
The brightness, area and time are twice compare to others under the same parameters by selecting high bright LED beads
with second optical design lens which make the lighting higher efficiency, larger area and more uniform.
2)A Great Buy:
It's one of the cheapest 200W solar street light. By optimizing the design and production process. We can meet the needs of customers for high-power solar street light while reducing the labor, material and logistics costs
3)High Quality:
Aluminum alloy housing, solid and sturdy constructed, IP67 waterproof, long life lithium iron phosphate battery, dusk on dawn off light sensor, anti-broken remote control. Each part underwent aging and repeated testing.