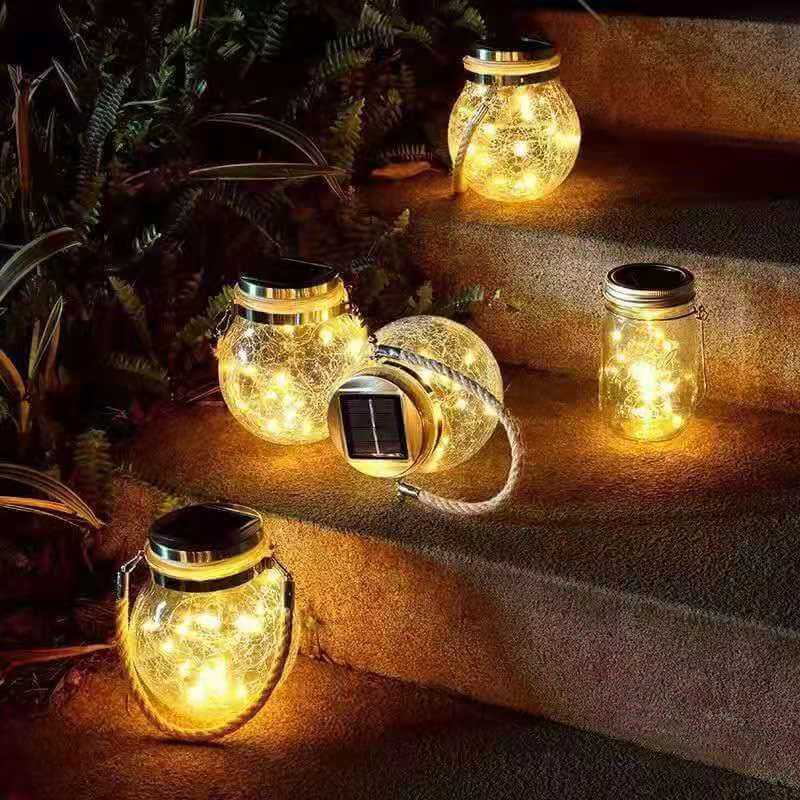 Solar garden lights mainly rely on solar panels to generate electricity. The electrical energy is stored in the battery through the solar controller. There is no need for manual control. It can automatically turn on and off according to the light level regardless of spring, summer, autumn, and winter. All charging, discharging, opening and closing are complete. Complete intelligent and automated control.
Garden lights are decorative products. The design style is simple and fashionable, or classical and romantic, or luxurious ,or exquisite and elegant. The structure is simple and generous. It can not only show the characteristics of classical architectural culture but also show the popular and fashionable urban style in many aspects. Whether it is the modern or classic architectural environment, there is a reason for him. Classical but not old-fashioned, heavy but not lacking in vitality, fashionable but not floating, elegant and yet stable and important, it is of great value for viewing and use.
Garden lighting series lighting is a commonly used form of decoration and lighting source configuration in garden scenic spots, cultural and recreational squares, pedestrian streets, commercial streets, residential quarters, and both sides of the carriageway. It is a decorative lighting product.
Low voltage, DC power supply, battery, or solar power supply is sufficient, and it can be used for field lighting and other places with a lack of electricity or electricity. The unique lampshade enables solar lamps to achieve a perfect combination of functionality and decoration. The patented battery protects the electrical compartment, which is not only beautiful and generous but also protects various devices in the electrical compartment from human damage. It has a unique anti-theft function and strengthens the safety of the lamp itself.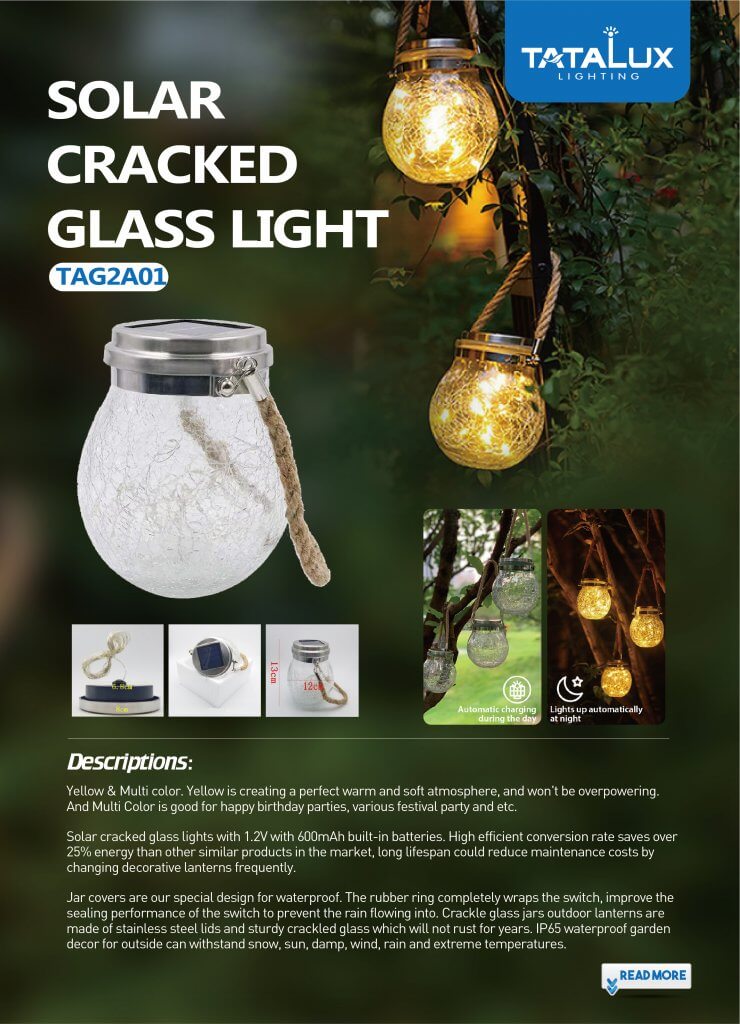 Tatalux New Model-TAG2A01 -Solar Cracked Glass Light-Solar Garden Lights
Descriptions:
1. Yellow & Multicolor. Yellow is creating a perfectly warm and soft atmosphere, and won't be overpowering. And Multicolor is good for happy birthday parties, various festival parties and etc.
2. Solar cracked glass lights with 1.2V with 600mAh built-in batteries.Solar Garden Lights. A high efficient conversion rate saves over 25% more energy than other similar products in the market, long lifespan could reduce maintenance costs by changing decorative lanterns frequently.
3. Jar covers are our special design for waterproof. The rubber ring completely wraps the switch, improves the sealing performance of the switch to prevent rain from flowing into it. Crackle glass jars outdoor lanterns are made of stainless steel lids and sturdy crackled glass which will not rust for years. IP65 waterproof Solar Garden Lights decor for outside can withstand snow, sun, dampness, wind, rain, and extreme temperatures.
For more info, you can enter the link: http://tatalux.com/product-detail/solar-cracked-glass-light-series-tag2a01/. For any questions, you can send the mail to Info@tatalux.com.