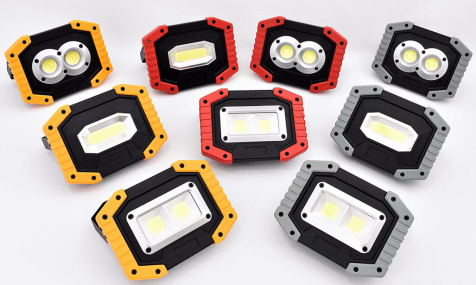 Work is not fully done by dark time , but unfortunately , there is nothing you can do without enough light, You have two chioces when it gets dark .One is  that you pack your tools  and call it a day , or  you can use the portable work lights and keep going till you are done or too tired .
LED work lights  provide you with illumination in shaded or dark spaces, and  they are necessity  if you are working on any form of a construction  project. So you can  work safety  and more effectively at night and during low-light projects.
Ther are many styles of  portable work lights  , you can choose different styles according to different workplaces. For the most  flexibility , your portable work lights should be cordless and rechargeable.
Portable Working  Light —COB  Light 
Product Name: Portable working light series
Product material: ABS plastic
Working Model:USB  Rechargeable and Battery Powered
Charging time:3-4 hours
Working time:4-5 hours
Light source: COB chips
Switch mode: different
Working voltage: 4.2 V
​Power: 10W& 20W
Lumens:  >60lm &  >100lm
Advantages : 1) Portable rechargeable LED work lights,easy to carry anywhere.
2)Intelligent charging, the product comes with USB charging.
3)The body is made of ABS material, and the reasonable structure is combined to form a new design appearance, it is more convenient to use .
The  portable working light series are Suitable for indoor and outdoor activities like car repairing, workshop ,construction site ,working , camping   ,emergency ,hiking , hunting , exploring , searching and so on .