LED Head light is the lighting tool for the liberation of both hands.
When we are walking at night, if we hold a flashlight, one of our hands cannot be vacated. In this way, we cannot deal with unexpected situations in time. and so. A good headlight is what we have when we walk at night. By the same token, when we camp at night, wearing headlights can free our hands to do more things.
This outdoor rechargeable led head light is adjustable and you can flip the LED light and set it in different angle,so you can use it to illuminate the high place or low place.
The head flashlight features elastane head strap, so you can easily wear or take it off and it is light in weight and small in size which hardly causes any discomfort after wearing for a long time.
This headlamp  can send out bright light which is benefit for you to see things clearly in the dark. Make your life more enjoyable and enlighten your life and provide you with the best solution to your problem.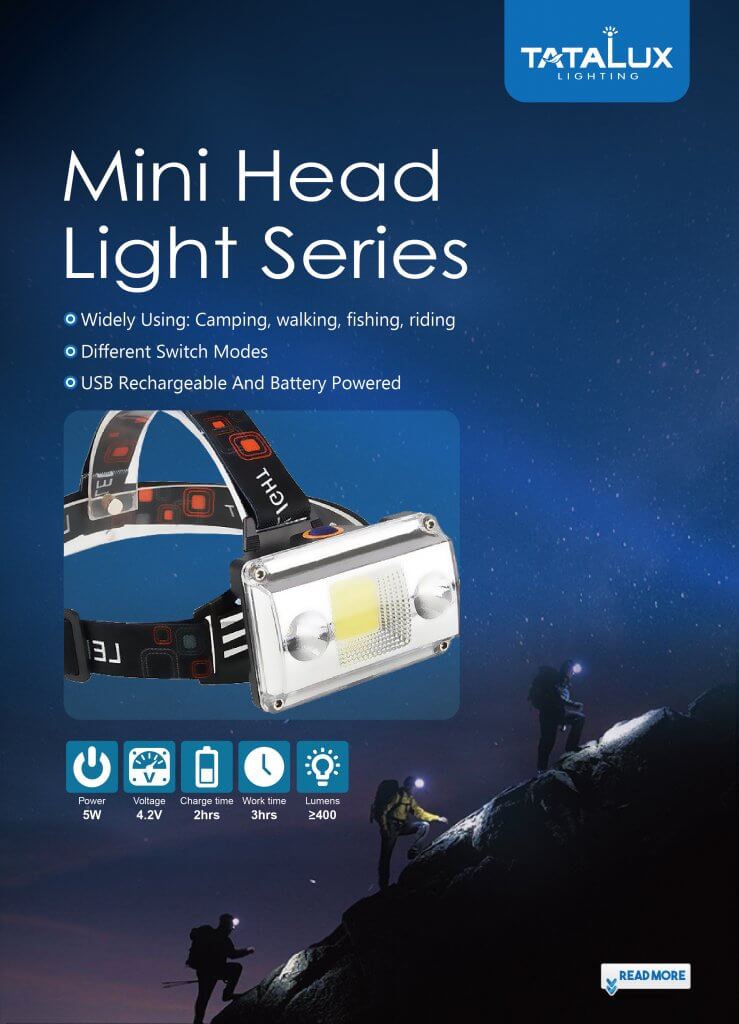 MINI HEAD LIGHT SERIES—-TALFW7  TATALUX LIGHTING
Product Name: Mini head light series
Product material: ABS plastic
Working Model : USB Rechargeable And Battery Powered
Charging time:2 hours
Working time:3 hours
Light source: Bulb lighting, COB, Bulb and COB, COB flash.
Switch mode: Different switch code
Working voltage: 4.2 V
​Power: 5W
Lumens:  >400lm
Widely using : Camping, walking, fishing , riding
Attention: pls remove the plastic mode when you  wear it at first time
Origin: China
Mini head light series can release your hands and it's convenient for your life.