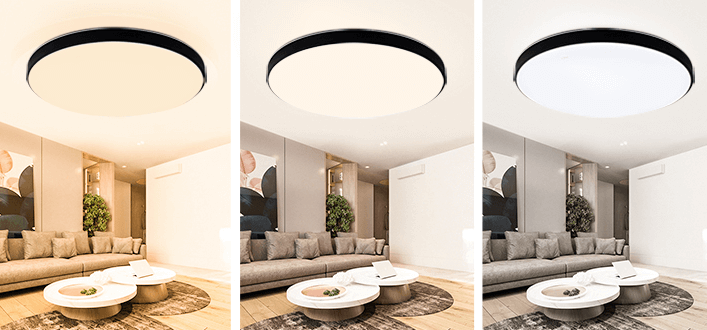 LED ceiling light is a kind of LED that is installed in the room as the light source. The appearance of the lamp is designed to
be flat on the upper part, and it is installed close to the roof, as if it is adsorbed on the roof, so it is called LED ceiling light.
There are two kinds of LED ceiling lights with remote control and without remote control. The ceiling light with remote control is
convenient to switch and is suitable for use in the bedroom. The material of the lampshade of the ceiling lamp is generally
plastic or  plexiglass.
Features:                           
High luminous efficiency, low power consumption, long life, easy control, maintenance-free, safe and environmentally friendly, it is a new generation of cold light source, which saves electricity compared to tube-shaped energy-saving lamps, high brightness, long light projection, good light projection performance, wide operating voltage range , Soft color, gorgeous, colorful, low loss, low energy consumption, green and environmental protection.
Scope of application
LED ceiling light is suitable for long-term lighting in shopping malls, banks, hospitals, hotels, restaurants, home and other places.
A. It is suitable for both indoor and outdoor, and can also play a decorative role.
B. Advertising function.
C. Functions such as anti-theft, fire prevention, and air purification can be added to the performance.
Product Features
1. The cover is made of acrylic material, with uniform light color, anti-glare and high light transmittance
2. Built-in power supply for easy installation
3. Can replace traditional ceiling lamps
4. Optional wireless remote control dimming light control switch voice control switch human body induction switch and other functions, the lamp is suitable for corridors, aisles, toilets, corridors, guest rooms, aisles, toilets and other places.

The lampshade usually uses a PC board, and the advantages as follows:
(1) Light transmittance: PC board can transmit light up to 89%, and it can be beautiful with glass. The UV-coated board will not yellow when exposed to sunlight, fogging, and poor light transmission. After ten years, the light loss is only 6%, the PVC loss rate is as high as 15%-20%, and the glass fiber is 12 %-20%.
(2) Impact resistance: The impact strength of the PC board is 250-300 times that of ordinary glass, 30 times that of acrylic boards of the same thickness, 2-20 times that of tempered glass, and there are no cracks when falling with a two-meter hammer below 3kg. The reputation of "unbreakable glass" and "sound steel".
(3) Anti-ultraviolet: one side of the PC board is coated with anti-ultraviolet (UV) coating, and the other side has anti-condensation treatment. It can block the penetration of ultraviolet rays, and is suitable for protecting valuable artworks and exhibits from ultraviolet rays.
(4) Light weight: The specific gravity is only half of the glass, saving the cost of transportation, handling, installation and supporting frame.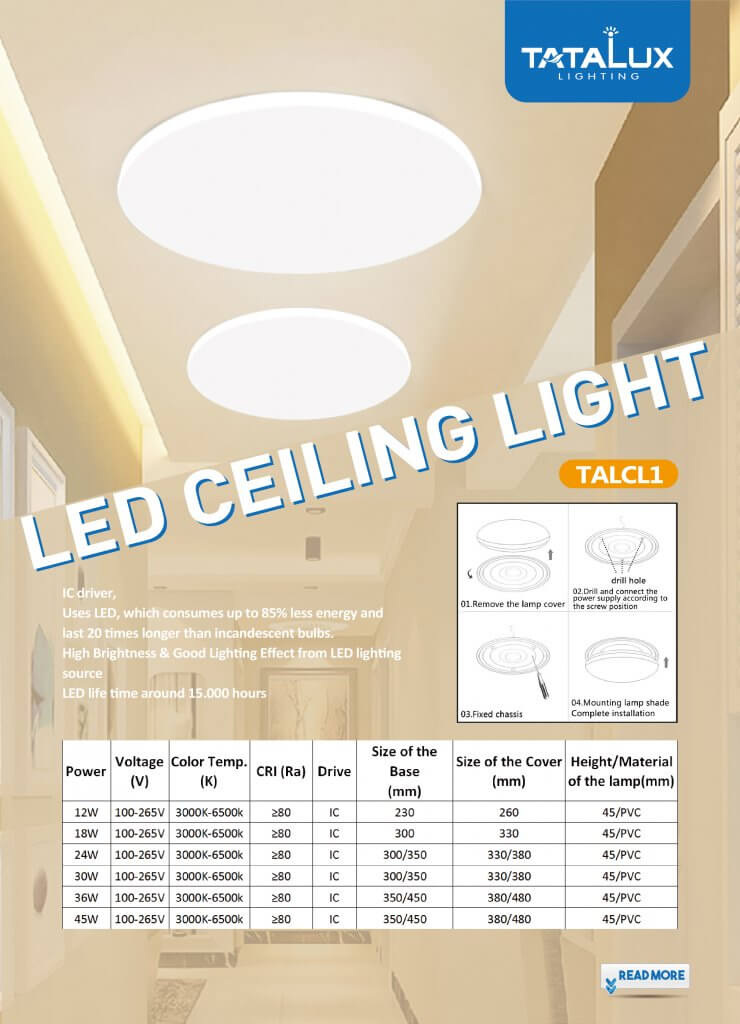 Tatalux New model  —TALCL1   LED CEILING LIGHT Series
Power: 12W/18W/24W/30W/36W/45W
Voltage: 100-265V
Color Temp: 3000-6500K
Material : PVC cover+Iron Base plate
Features: IC driver,different size for cover
High Brightness & Good Lighting Effect from LED lighting source
LED life time around 15.000 hours
Application for Living Room, Foyer, Dining Room, Kitchen, All indoor lighting.
Advantages:
Super Bright Brightness: With 75 lm/W  and over 80 CRI, the light is bright, glare-free, soft, and no flicker.

Energy Saving: Uses LED, which consumes up to 85% less energy and last 20 times longer than incandescent bulbs

Concise Design: The appearance is elegant, neat, and concise, fitting your various household decoration style.

Versatile: Can be used as various scenes lighting, like, bedroom, dining hall, lobby, corridor, balcony, etc.

Free of toxic substances such as mercury

No ultraviolet radiation, no light pollution